Bergvliet Villas offers luxury holiday lodges and log cabins for holiday rental. Bergvliet Villas is a unique brand new holiday park with luxury holiday villas, located in the middle of nature. It is really quiet here!
offers the following facilities.
Club or Bar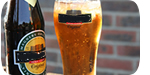 If you dont fancy visiting any of the great locations in and around Oosterhout you can enjoy a pleasant evening at the club and / or bar which is available at Bergvliet Villas - perfect convenience for your holiday.


Restaurant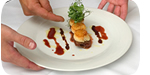 When you book a holiday lodge at Bergvliet Villas you get the best of both worlds. A self catering holiday gives you the freedom of being able to explore all the delights Oosterhout and North Brabant has to offer with out being tied down to meal times...And for the times when you don't want to cook you can treat yourself at the Bergvliet Villas restaurant. Of course you can always eat out at the local pubs and restaurants as well!.

Perfect for Golfers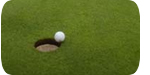 Want a North Brabant golf break or holiday? Then booking a self catering lodge at Bergvliet Villas could be a great solution. There is a golf course on the park or near by. And with plenty for non golfers to do either at Bergvliet Villas or in and around the Oosterhout area the non golfers will have a great time too.


Children's Play Area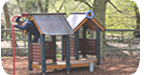 If you are looking to book a family holiday then Bergvliet Villas could be the perfect answer. Bergvliet Villas has a children's play area which is ideal for kids to burn off excess energy and make friends with the other children enjoying their North Brabant holiday.



Indoor Swimming Pool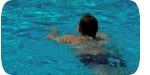 Bergvliet Villas's indoor swimming pool is a fantastic facility for those who enjoy a swim what ever the weather.




Don't forget to bring the bikes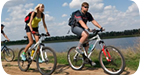 There is some great cycling opportunities both locally around Oosterhout or popular cycle routes in North Brabant.



Pet Friendly Lodges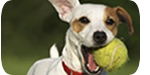 There is no reason to leave your pets behind because at Bergvliet Villas some lodge accommodation welcomes well behaved pets. Bergvliet Villas understands that a family holiday means all the members of your family including your dog. You also get to save money as well as we all know that kenels can be pretty expensive. There is also plenty to do around Oosterhout for both you and your dog.

Internet Access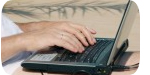 If you need to catch up with emails or want to surf the web while holidaying at Bergvliet Villas then you will find the wifi or internet access very useful. For more details please check when you book. Another option for internet access is to search for wifi hotspots in Oosterhout or . You can also check mobile broadband coverage as well if internet access is important to you.




Other facilities and features include:
Description

The holiday park is part of Landgoed Bergvliet, a beautiful and spacious recreational area in the Oosterhoutse bossen near Breda, consisting of an 18-hole golf course, various restaurants, a grand cafe, a central building and the largest, most luxurious wellness complex, Spa One, from the South of The Netherlands. From your villa you can walk or cycle straight into the woods. The Burgundian city of Breda, downtown of the year 2017-2019, is a 15-minute drive away.

A quick bite to eat, a nice drink, an intimate dinner or a barbecue is all possible in one of the 2 restaurants at Landgoed Bergvliet, with a high-quality, yet affordable kitchen. Various types of events are also possible, from wine tasting to a golf event. Groups can use the Koetshuis for a private meeting.

The Golf Course is open 7 days a week and has a unique driving range, a par 3 practice course, a golf school, golf shop and an 18-hole championship course, which can compete with the best courses in the Netherlands.

Enjoy a total experience that is unprecedented for saunas and wellness centers in the Netherlands. Spa One is a state-of-the-art wellness complex where you - of course with all due respect for the traditional sauna corridor - fully unwind in an extremely pleasant atmosphere.

In short: Bergvliet Villas really has everything to do in nature, just to do nothing at all, to relax in the beautiful spa, to discover the Burgundian surroundings and afterwards to relax on the terrace or at the bar at come while enjoying a nice drink.
The local area around Bergvliet Villas & North Brabant

Landgoed Bergvliet is Brabant at its best! Away from the highway, in the middle of typical Brabant nature with its vast forests, heaths and sand drifts. Hidden between the farmlands of the Vrachelse Heide and the Oosterhoutse bossen. An area where golfers, mountain bikers, hikers, cyclists, horseback riders and nature lovers are completely in their element.
Via the Vrachelse Heide you enter the Open Linie landscape park, a varied area where rolling forests, heaths, sandy plains, fens and farmland alternate. Do you really want to feel completely at home with nature? Then take a beautiful forest ride on horseback from one of the riding schools in the area.

You are also surrounded by the special nature reserve National Park De Loonse and Drunense Duinen, which are ideal for walks or cycling trips and these parks are a paradise for mountain bikers and horse riders. There are numerous restaurants around the national park. The public walking is forbidden on the golf course. You can take a walk around the golf course.

And north of Landgoed Bergvliet lies De Biesbosch National Park, this is the largest freshwater tidal area in Europe. This area is not only a valuable nature area, but also an adventurous recreational area where you can walk, cycle or sail endlessly. And what about a trip to the Efteling theme park and De Beekse Bergen zoo, both half an hour's drive from Landgoed Bergvliet.
Accommodation & Prices

This 4-person villa (approx. 90 m2) is spacious and light in design and is completely ground level. The villa has 2 bedrooms with box-spring beds and each has its own en-suite bathroom with private toilet.
The spacious living room with a glass (sliding) front provides plenty of light and an optimal experience of nature and a cozy open kitchen is fully equipped. Through the living room you reach the partially covered terrace, the playful design seems to float the terrace. There is a wonderful sitting at the large table by the outdoor fireplace. The forest garden has been partly laid out, but a lot still needs to grow here, this depends on the weather and the season, the garden around the terrace is not suitable for sunbathing.
There is a small outdoor storage room at your villa for your golf bags, for example.

With the contemporary design the emphasis is on enjoyment. The outdoor life is of course part of that. Every interior item in the villas has been considered. From the large sleek dining table with oak top, to the rug and cutlery. Many tough materials such as wood and iron are used. The whole looks contemporary, not too trendy but timeless. The houses are light and at the same time very warm due to all natural materials. For example, all furniture made of wood is made by hand from sustainable wood.

The comfortable box spring and private bathroom give each bedroom the appearance of a hotel suite. A luxury that you will not find in any holiday park.

The house is very sustainable and has solar panels, climate control, triple glass and a high insulation value.

The ideal base for a weekend of golfing, wellness, discovering nature or discovering the area. Or of course catching up with your family or friends, your Bergvliet Villa is fully equipped.
User Reviews
We have 0 reviews for Bergvliet Villas. A random selection of 3 are shown for your information. Refresh the page to get another 3 reviews to show.
Have you been to Bergvliet Villas? Please share your views with others who are considering this lodge park so that they can benefit from your experience and get the best from their holidays.

Local Information & Businesses
Restaurants in Oosterhout
Other information
Other Holiday Lodges in the area you may like to consider
| | |
| --- | --- |
| | Bergvliet Villas in Oosterhout. Bergvliet Villas is a unique brand new holiday park with luxury holiday villas, located in the middle of nature. It is really quiet here!. More Information |