School Holiday Breaks at a holiday lodge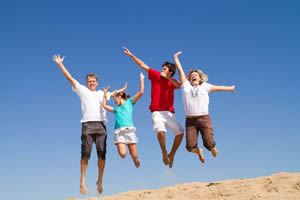 Holiday Lodges or Log Cabins are great for family holidays with the kids.  We all know that booking any holiday in the UK or abroad in the school holidays can be pretty expensive.
Lodges often cheaper than cottages
Often you will find that holiday lodges are often a fair bit cheaper than some forms of holidays such as holiday cottages and apartments. In many cases you will find comparable space and finish quality as you would in a holiday cottage whilst saving you some money you can spend on enjoying your holiday.
Booking Availability for summer holidays
It's true that many of the best locations book up early for the peak summer season in July and August as well as other school holidays making it difficult to get the location and accommodation you want.  Once you have found the lodge you like and in a good location it's a good idea to book the lodge early to avoid not being able to get the dates and accommodation you want. 
The need to book early is a little better than say holiday cottages as each cottage is unique and once the owner has sold that week there is nothing they can do.  With lodges and caravans it can be a little easier as often there are more than one lodge on a park and as long as you can be flexible as to the lodge you book you can find late availability.
Reducing the cost of your school holiday lodge booking
The reasons why the summer school holiday is more expensive than other times to book for a holiday are as follows:
Supply and demand – more people are wanting to book lodges and other types of holiday during those periods.


Weather – Often the school holiday in the summer has the best weather so again this increases the demand.


Lodge owners, as with any other holiday business, have a short time each year when they can fully occupy their lodges.  In winter months there will often be times when they are not let.  As such, they have to cover their annual costs over a few months in the summer.
Here are some tips that can help you save some money when you book your holiday lodge:
If you can avoid the school holidays then you will get a cheaper holiday.  Some schools are open to discussing this if important times can be avoided e.g. exams


Think about the options you need when you book.  In many cases you will be offered travel insurance and cancellation insurance.  Whilst these products can save you money if you need them they are an added expense if you don't.  You can also compare the price of travel insurance rather than just taking the one offered.  This can save you a considerable sum. However, check what is offered by all the products and base your decision on what you need.


Locations close to the beach or in Devon and Cornwall will often come at a premium price in the key summer months.  If you are not a beach person or are happy to travel a bit then why not look at locations in land or areas that get less booked up.  For example if it's the countryside you are looking for then there are some great locations all over the UK that offer great lodges and some will be cheaper than others.


The type and luxury level of the lodge will also have an impact on price.  Consider a more basic lodge to reduce the cost or a static caravan can be a great alternative.  In some cases you can get holiday caravans at the same location.
---