Family Holiday Lodges and Log Cabins – the perfect choice for a young family
Holiday lodges and Log Cabins – the perfect choice for a young family…
We have selected a range of holiday lodges located on parks that welcome families and have a play area on site.  That doesn't mean to say that lodges on parks not featured in this section don't welcome families it just means that there is not a play area. 
Outdoor fun for the kids
A play park or play area on site is great for the kids as it provides an area where they can meet other children, make friends and get plenty of fresh air.  For adults it's pretty good as well as kids that are bored can make a stressful holiday.  Also with all that fresh air the kids burn off all that excess energy they have which leads to a good night's sleep for all.
Often the parks have well equipped play parks which are often shown in the pictures on the details pages or when you book.  You will often find slides, swings, climbing frames and some have great assault courses as well.  Other features to look for, which are available in some locations are indoor play rooms or ball pools etc.
Very young children and babies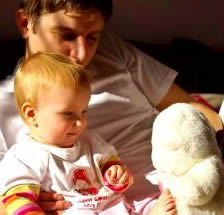 If you have a very young family e.g. a baby or a small toddler then a holiday lodge can be specially suitable.  With good insulation and heating they can be very warm and comfortable, essential for the cooler months.  The wood also provides good sound proofing as well and most lodges have good double glazed windows which means that any afternoon naps or early evening sleeps are less likely to be disturbed.
We all know that there is a lot of equipment that you have to bring for a baby or young family.  The extra space offered by a family lodge will provide ample storage space for the equipment.  Indeed some lodges offer equipment to hire or for free that will help such as a high chair and / or a travel cot.  Check when you book to see what is available for your cottage of choice….
To search for lodges in the area you are looking for your holiday in just use the map to view the lodges and log cabins available in the UK and Europe.
---