Holiday Lodges near the Lake District National Park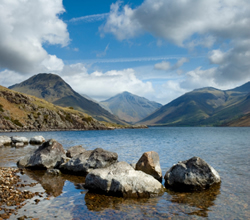 The Lake District is England's largest national park.  It is an area of 2,292 km's square and is by far the most popular of the national parks in the UK attracting around sixteen million visitors each year.  It is worth over £950 million to the local and national economy.  Shockingly it wasn't until the eighteenth century that the area was fully appreciated for its beauty and not until the railway link before it became the tourist hotspot we know today. 

The Lake District was one of the first areas of outstanding natural beauty to be officially recognised as a national park way back in 1951.  Visitors are attracted to the spectacular scenery, water sports opportunities and superb walking and cycling places.

The lakes

It contains twelve of the biggest lakes in England and it is these that the area is famed for. Whether you enjoy activities such as water sports, hiking or cycling there is plenty for you with a choice of walks.  If you are a painter, keen on drawing or photography you will find plenty of stunning countryside and wildlife to enjoy.

The mountains

The Lake District is also home to England's largest mountain.  Its high point is Scafell Pike which along with the 200+ other peaks gives the area a mountainous feel.

The coast

This part of the Lake District is often forgotten.  However, there are a variety of beaches on the western coast of the area.  The beaches range from sand at locations such as Morecambe Bay and Furness Peninsular to the rock and sandstone coastline at locations such as Saint Bees.

Key towns

There are a number of large towns in the area that are a perfect base to explore the area from.  Keswick which is located at Derwent Water is an ideal location for the north lakes.  Windermere is also a popular destination.

Staying in the Lake District

As you would expect there are plenty of holiday accommodation with in this tourist hotspot.  There are plenty of holiday cottages to rent in the area as well as the selection of holiday lodges in Cumbria and the Lake District
---